You can designate Gmail as your default mailto handler. This means that when you click on any hyperlinked email address, a Gmail compose window will open so you can send a message to that address from Gmail, this needs to be set up inside your browser.
This article will cover setting up Gmail as the default mailto handler in Firefox, Google Chrome and Safari browsers:
How to set up Gmail as the default Mailto handler in Firefox browser:
1. Open up Firefox browser
2. Click on the Menu button which is shown at the top right hand corner of the browser - as shown below:
3. Select Options as shown below:
4. Select Applications from the options along the top as shown below:
5. You will see Mailto listed with a drop down to choose the email client
6. Select Use Gmail as shown below:
7. Then Click on OK to save your changes:
8. When using Firefox browser anytime you click on an email address your Gmail client will be the default allowing you to send email via Gmail.
How to set up Gmail as mailto handler inside Google Chrome browser:
1. Click on the Chrome menu icon in the top right corner of your browser - as shown below:
2. Go to the Privacy and Security section.
3. Click on 'Site Settings'.
4. Under Permissions, select the Additional permissions dropdown
5. Select 'Handlers'
6. Turn on Allow sites to ask to become default handlers for protocols (recommended)
7. Open Gmail in your Chrome browser
8. In your browsers address bar, click the Service handler icon (as shown below:)
9. Click Allow

7. Click on Done to finish.
Please Note: If the your "Protocol handlers" window appears blank with no options, try installing Google's Mailto Extension for Chrome instead.
Alternatively please click here for some instructions if you find the above does not work.
How to Set Gmail as default Mailto Handler inside Safari browser:
2. Click the arrow at the top right of your Safari browser, click the download, and click "Install" in the pop-up window.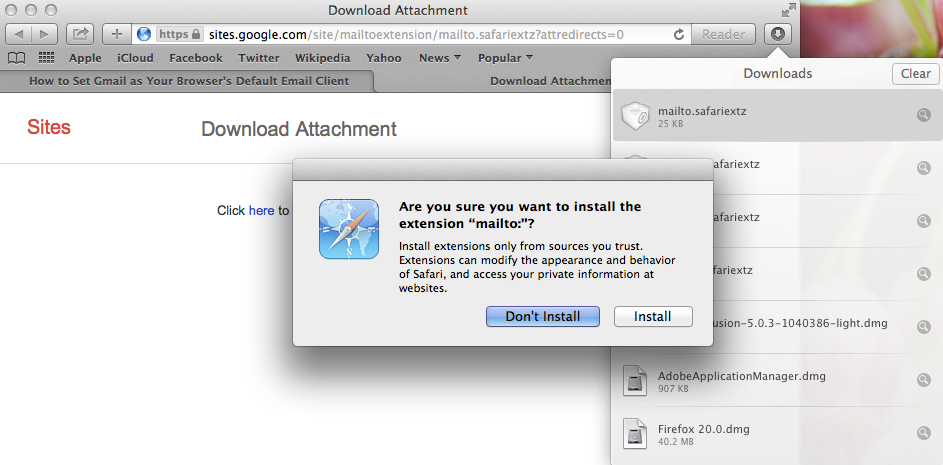 3.
Select Gmail from the list of options.

4.
Restart your browser for the settings to activate.
For assistance please contact our Support Helpdesk.